Optical Bonding
Optical bonding is the process of adhering two or more substrates (e.g. LCD & Touch Glass) with optical clear adhesives to sharpen visibility and reduce glare. DisplayBoost's process applies both gel adhesives (dry bonding) and liquid adhesives (wet bonding) between the cover glass and LCD to completely fill the air gap. The assembly is cured in a process that affixes the panels together while solidifying the gel.
Essentially, optical bonding is the full lamination of an LCD including front glass or touch sensor. It eliminates nearly all reflective loss and leads to a higher contrast ratio with superior sunlight readability. Additionally, optical bonding enhances mechanical stability and prevents moisture or dust particles from getting between the display layers.
WHY YOU NEED OPTICAL BONDING
Protection ‐ LCDs have plastic surfaces that are not vandal or weatherproof. An optically bonded glass or polycarbonate lens ensures your LCD stays protected.
Clarity & Viewability ‐ Optical bonding reduces both internal and external reflections. It improves contrast ratio without the need for increased backlighting so your screen stays sunlight readable.
Shake & Shock ‐ Standard LCD displays are easily damaged. Optical bonding strengthens screens so they are resistant to vibrations and shocks. It's especially useful for marine and transportation applications.
Dust & Moisture ‐ Preventing dust, moisture, and debris from getting into your screen ensures reliability and a long lifespan. Optical bonding fills the air gap so nothing unwanted gets in.
ADVANTAGES OF OPTICAL BONDING
Allows for thinner designs.
Improves stability and reliability.
Moisture, dirt, and dust stay out of your display.
Eliminates reflections between the LCD and touch screen.
Reduces internal reflections to increase sunlight readability.
Strengthens resistance against shocks, vibrations, and impacts.
Improves contrast ratio, display legibility, and brightness enhancement.
Extends the lifetime of your LED by providing enhanced optical performance.
DOES OPTICAL BONDING CHANGE THE OPERATING TEMPERATURE?
No. Optical bonding does not alter the internal components of a display, only the surface. Therefore, the operating temperature remains the same.
WHAT APPLICATIONS IS OPTICAL BONDING BEST SUITED FOR?
Outdoor displays under direct sunlight or indoor displays under high ambient light will find improved performance and visibility with optical bonding. Vehicles, kiosks, digital signage, marine displays, and in‐flight entertainment systems are examples of applications well-suited for optical bonding.
WHAT TYPES OF DISPLAY SCREENS BENEFIT FROM OPTICAL BONDING?
Optical bonding is recommended for any display screen that relies on direct viewing, including but not limited to AMLCD, plasma, passive LCD, monochrome and transparent electroluminescent, as well as emerging flat screen technologies such as OLED (organic light emitting diodes).
WHAT ARE THE DIFFERENT TYPES OF BONDING?
There are three types of bonding: silicone cured with UV, urethane, and epoxy.
WHAT OTHER TYPES OF DISPLAY ENHANCEMENT SERVICES ARE AVAILABLE?
DisplayBoost can customize your display screen with added coatings and performance films to minimize unwanted reflections while maximizing light.
WHAT IS THE CRITERIA FOR CHOOSING AN OPTICAL BONDING VENDOR?
Optical bonding sounds simple, but the process is rather complex. Numerous steps are involved and only experienced professionals should undertake such a venture.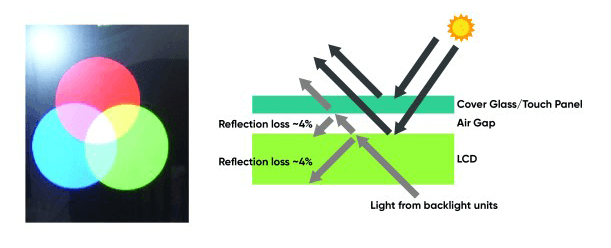 Prospective vendors should:
Demonstrate a proven track record of successfully bonding displays.
Have an in‐house cleanroom capable of properly processing displays in a low ESD (Electro Static Discharge) environment.
Use quality control experts to test the enhanced displays for their targeted environments.
Offer full certification and warranties.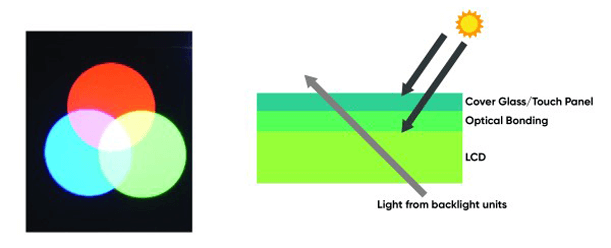 For more information on optical bonding, please contact us. We'll help you achieve the perfect display solution customized to your needs. If customization isn't for you, we also offer a list of high quality, affordable, standard products ready to ship.
Products we carry are from industry leaders